A Madison Weekend
A Madison Weekend
In Madison County you will see rustic and small-town American at its best. Locals and visitors have embraced a slow pace of life and country-living ideals in the Blue Ridge Mountains.
Friday Evening
Unpack your bags…
At Graves Mountain Lodge and settle into a rocking chair on their front porch. Rent a cabin for a more secluded stay. If you happen to arrive during their apple festival enjoy hayrides, local artists, musical performances and, of course, an assortment of apple goodies.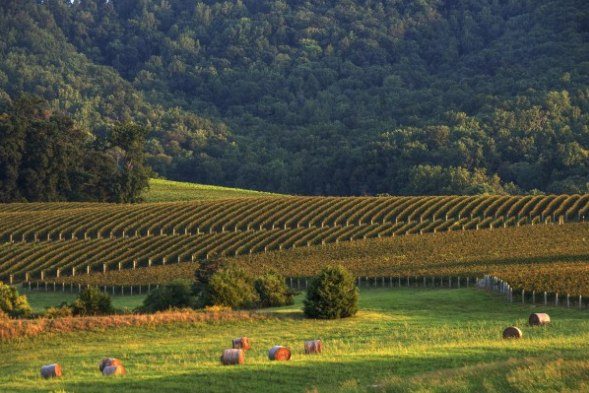 Wine…
Early Mountain Vineyards is tucked into the foothills of the Blue Ridge. The tasting room has a Napa-vibe but the heart, soul, and wine of Early Mountain Vineyards is decidedly Virginian. Complimenting their own wine selection are wines from other celebrated vineyards around Virginia as well as food from local farms and producers.
… and Dine
Make your way over to the Inn & Tavern at Meander for a dinner set in a historic inn on a gracious plantation. Dinner is served at 7:00pm on Thursdays, Fridays, and Saturdays. It is a pre-fixe menu so come ready to place your palette in their hands.
Saturday
 Take a Morning Drive
Enjoy the long views and clean air and roll your windows down as you drive one of Madison County's most beautiful roads, the FT Valley Road. Follow the road into neighboring Rappahannock County and stop in Sperryville for a coffee and pastry (or two). Pull into the Corner Store and pick up breads, cheeses, drinks and other provisions to…
Take a Hike
For those who love the outdoors and a good challenge, no weekend in Madison County is complete without climbing Old Rag Mountain. This well-known hike finishes as more of a rock-climb but comes with spectacular views and bragging rights.
Dine Under the Stars
After conquering Old Rag and a nap, head over to Yoder's Country Market. In this family-run store you will find all the local goods you need for a picnic dinner and more. Take your foodstuffs back to Graves Mountain Lodge, throw a blanket on the lawn and enjoy your dinner under the brightest stars you've seen in a long time.
Sunday
Choose your own path
Choose one of the many roads in Madison County and take a morning bike ride (your best options are conveniently listed here). Enjoy the serenity and solitude and get a little exercise so that you can…
Treat Yourself
Give Cakekrums a visit for an afternoon caffeine pick-me-up and a cupcake, cookie, muffin or another sweet treat of your choosing. Finally, conclude your trip to Madison with a great lunch. Some options in Madison include Jenny Lynd's Pizza and Piedmont Deli.