Adam Beroza
c: 540-244-1471
e: Adam@CheriWoodard.com
o: 540-987-8500 Ext: 4
Raised in Sperryville, Adam is a son of Rappahannock County. In 2012, after a career in Internet marketing, he returned home to the family farm. Adam joined Cheri Woodard Realty as Vice President of Sales and Marketing. With a degree from the McIntire School of Commerce at UVA, Adam finds himself trying to find empirical reasons to explain the local real estate market. His comprehensive market knowledge, personal perspective, and local roots help him find hidden jewels and diamonds in the rough for his clients. Adam enjoys exploring the family farm, hiking, biking and photography. Adam is also an amateur chef and an unabashed enthusiast of the slow food movement.
Fun Facts
A Change of Heart

I grew up in Sperryville and couldn't wait to leave. Now you can't pry me away. With a deep love for the Heart of the Piedmont.

Football Fanatic

I went to UVA in the 90's when they had good football teams and fell in love with college football. Whether online, on TV or at Scott Stadium, I rarely miss a game. Hope springs eternal!

I Love to Cook

Whether I'm curing meat, making cheese or just grilling with friends, I love to cook. With a huge garden at home, chickens in the yard and honey bees in the field, slow food has a new definition at my house.
Adam Beroza's Listings
63 Gray Fox Lane, Rappahannock
Adam Beroza's Customers
When we decided the time had come to retire to spend more time with family and friends, there was no question to whom we would turn to help us list and sell the Gay Street Inn in Washington, Virginia. Cheri Woodard and her amazing team had helped us purchase the Gay Street Inn a few years earlier, and had impressed us not only with their friendly and very personal care and concern, but also with their knowledge, expertise, and professionalism. Our association with our new friends at Cheri Woodard Realty continued after we relocated to Little Washington. We were especially impressed by the way Cheri, Martin, Adam and others supported local charities and participated in local affairs. Our recent experience as sellers confirmed that our decision to rely on people we knew and trusted to help us with the successful sale of our property had been the right choice.
Having worked directly with Cheri, Martin, and Adam, we can attest to the depth and breadth of the service provided both buyers and sellers by Cheri Woodard Realty. If you are considering a purchase or a sale, you could do no better than contacting and speaking with one of these outstanding professionals.
- Gary & Wendy A.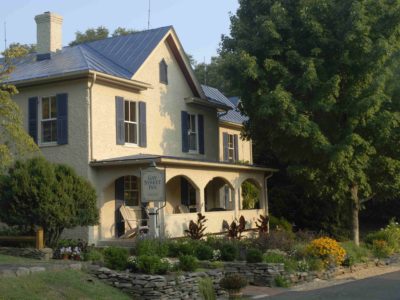 Gay Street, Washington, Rappahannock
Adam Beroza is a top-notch realtor! Selling our farm house in Rappahannock County was the fastest, smoothest real estate transaction we've experienced! Adam went above and beyond! The fresh orchid hand-delivered to our new home was a thoughtful touch too!
- Dana and Andy T.
Kilby Farm Lane
Thank you so much for your help during this long sale process – you have certainly earned your commission on this one! We are truly grateful.
- Francisco F. & Bernice B.
Nethers Road, Sperryville, Madison County
Adam was a real pleasure to work with and a great help in finding us a property. We certainly appreciated his patience and low key approach to working with us as we searched for just the right place. He listened to what we were looking for even as he exposed us to alternatives that we might not have considered but did so without pressuring us. Adam's knowledge of the county was of particular value and his dispassionate analysis of various properties was very helpful to our decision making. He also gave us good advice during the negotiating process for the property we eventually purchased. We are very pleased to recommend Adam and the resources at Woodard Realty to anyone considering a purchase in Rappahannock County.
- Cathie and Tom W.
Hunter's Road, Washington VA
Cheri Woodard Realty is communicative, proactive, knowledgeable and professional.  From our first call, Cheri took the time to listen to exactly what I hoped to accomplish.  Adam was a consummate professional, bringing market knowledge and a friendly demeanor to every interaction while Emily was prompt and diligent.  What stood out most to me was the willingness to go the extra mile just because doing what is best for the client seems to be the culture at Cheri Woodard Realty.  The team approach is a big differentiator and really works!
As an investor, I have worked with many realtors over the years and none have matched the level of service provided by Cheri Woodard Realty.
- Carlton F.
Main Street, Sperryville, Rappahannock County