Cheri Woodard
c: (540) 742-0833
e: Cheri@CheriWoodard.com
o: (540) 987-8500] Ext: 1
Cheri moved to Rappahannock County in 1974 to be closer to nature and to enjoy a more stress free and rewarding life. She has lived in Sperryville for over 46 years and has developed a deep knowledge of the land and people of Rappahannock. Buying and selling real estate has always been an integral part of Cheri's life. She has a long history of volunteering, and when she's not selling real estate, Cheri can usually be found working with one of her favorite non-profits. Her passion and work ethic are evident in all that she does. It is no wonder that she is the leading Realtor in the area.
Fun Facts
Swimming and Biking are my Favorites

There is no better way to clear my head than a morning bike ride up Nethers Road. We have a 20-acre lake on our farm with clean, beautiful water. My perfect summer day is a morning ride and a dive into the lake for a swim to cool off.

Serial Entrepreneur

I've worked for myself since 1975, wearing many different hats. I have independently started up five businesses, including a herb and antique shop, a major catalog retailer, an art gallery, and my own Real Estate Company. I love new challenges!

Ardent Gardener

I enjoy growing all sorts of plants but herbs are my passion. Years ago when I owned Faith Mountain Herbs and Antiques, I grew herbs for Patrick O'Connell, chef of the renowned Inn at Little Washington.
Cheri Woodard's Listings
Cheri Woodard's Customers
We were delighted with the professional job you and your team delivered throughout the sale of our home. You prepared, coached and accompanied us throughout and we thank you so much.
- Nedra and Hugh S.
Battle Run Hall, Washington, Rappahannock County
Thank you so much for everything. From the insurance issues to the perc tests, you helped us every step of the way, and made it a relatively smooth and painless process.
- Catherine
Piedmont Ave, Washington, Rappahannock
Having bought and sold many homes over the past few decades, we can easily say that working with Cheri Woodard was the best agent experience we have had. Cheri was available when we needed her and stayed in constant communication with us throughout the process. She was professional, reliable and honest. Her knowledge of the local market and negotiating skills ensured us the best offer for our home. And did I mention results? We had multiple offers shortly after listing!
- Sharon and Scott W.
Weaver Hollow Road, Banco, Madison
I wanted to thank you personally for all your help in selling and managing the sales process for me at "Battle Run."…Your realistic presentation of market condition with supporting documentation enabled me to make good business decisions in a very difficult market.
I have been in the real estate business for 40 years and the service you and your company provided far exceeded my expectation.
- Vince M.
Battle Run Farms, Washington, Rappahannock
Thanks for everything. You marketed the home well and we were pleased with the speed of sale, professionalism and outcome!
- Rick R.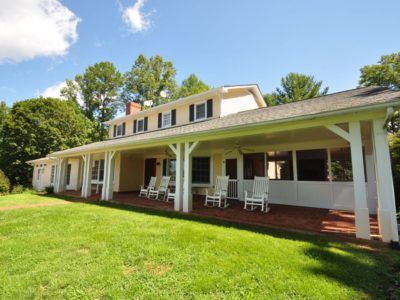 Hazeland Lane, Boston, Culpeper County