Cheri Woodard
c: (540) 742-0833
e: Cheri@CheriWoodard.com
o: (540) 987-8500] Ext: 1
Cheri moved to Rappahannock County in 1974 to be closer to nature and to enjoy a more stress free and rewarding life. She has lived in Sperryville for over 46 years and has developed a deep knowledge of the land and people of Rappahannock. Buying and selling real estate has always been an integral part of Cheri's life. She has a long history of volunteering, and when she's not selling real estate, Cheri can usually be found working with one of her favorite non-profits. Her passion and work ethic are evident in all that she does. It is no wonder that she is the leading Realtor in the area.
Fun Facts
Swimming and Biking are my Favorites

There is no better way to clear my head than a morning bike ride up Nethers Road. We have a 20-acre lake on our farm with clean, beautiful water. My perfect summer day is a morning ride and a dive into the lake for a swim to cool off.

Serial Entrepreneur

I've worked for myself since 1975, wearing many different hats. I have independently started up five businesses, including a herb and antique shop, a major catalog retailer, an art gallery, and my own Real Estate Company. I love new challenges!

Ardent Gardener

I enjoy growing all sorts of plants but herbs are my passion. Years ago when I owned Faith Mountain Herbs and Antiques, I grew herbs for Patrick O'Connell, chef of the renowned Inn at Little Washington.
Cheri Woodard's Listings
259 Riley Hollow Road, Rappahannock

TBD Grindstone Road, Rappahannock
Cheri Woodard's Customers
They're super as always!
- James W.
Slate Mills Road, Sperryville, Rappahannock
You and Adam have made this such a wonderful experience for us.
- Bob T. & Kathy K.
Fallowater, Sperryville, Rappahannock County
Thanks for everything. You marketed the home well and we were pleased with the speed of sale, professionalism and outcome!
- Rick R.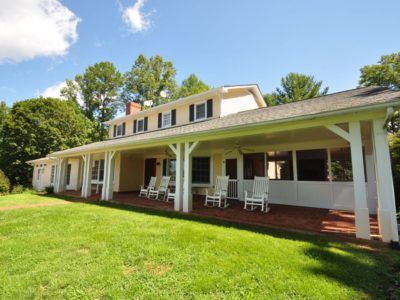 Hazeland Lane, Boston, Culpeper County
We recently completed a challenging purchase with Cheri as our representative and we can could not have been more pleased with her professionalism and diligence. These traits also extend to her entire team including her husband and fellow broker, Martin, who offered invaluable insight throughout the purchase. Our transaction was difficult on many levels because it was an civil-war era home that needed repairs. The due diligence process was long and arduous but Cheri was patient and had a great sense of when to hold firm on issues and when to relent on those that were not so critical. She is a seasoned and savvy negotiator who understands that a win-win mindset more often gets the deal done.
Several times over the last few years we tried unsuccessfully to either go it alone or use an out-of-town broker for representation and every time those deals were lost. We learned our lesson the hard way and decided we needed a local expert with deep ties to the community and a wealth of local knowledge. I am convinced that the only way we were able to complete our deal was through Cheri's outstanding relationships with the local professionals who touched the transaction. From the home inspector to the lender to the myriad of contractors she helped coordinate, it was apparent to us that everyone appreciated and respected her straightforward and professional approach and ability to get deals done. Most importantly to us, she does what she says she will do and she does it well, while always keeping her clients fully informed and their best interests at heart. Honesty and forthright communication are too often lacking in real estate transactions and we can confidently say that Cheri considers these as basic tenets of her business and because of this it is no surprise that she has been so successful. We unequivocally and wholeheartedly recommend Woodard Realty to anyone considering a transaction in Rappahannock County or the surrounding area.
- G. and N. R.
Battle Run Road, Washington, Rappahannock
Hi Cheri- thanks to you and your team for your strenuous efforts to get the sale done over the last 6 months and also for taking charge of all that last minute work on the property, which was critical.
Thank you again for all your work, coordination, team efforts, and perseverance!
- Rick & Judy
Penny Lane