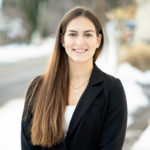 Kaitlyn Johnson
c: 540-878-1393
e: Kaitlyn@CheriWoodard.com
o: 540-987-8500
Kaitlyn, a Culpeper County native, has a passion for the area and its people. After college, she knew a career in real estate was for her! Her unique gift of communicating efficiently and understanding people gives her a personable touch. She has a heart to serve and loves to give back to her community. When not learning everything there is to know about real estate, Kaitlyn enjoys spending time with friends & family, attending her church and planning her next adventure.
Fun Facts
Bucket List:

• Skydiving (check)
• Bungee Jumping
• Wing Walking on a
Plane
• Gliding
• Shark Cage
• White Water Rafting

A Great Day:

One of my favorite things to do is go hiking on nearby trails. I pack a small picnic lunch and head to the mountains with my best friend. I love meeting and talking with all the other hikers. They are some of the nicest people you will meet!

New Hobbies:

I recently fell in love with carpentry! I love turning a plank of wood into a beautiful table, bench, chair or any other home accessory. Being able to make something from one thing to another is an amazing feeling.
Kaitlyn Johnson's Listings
96 Hackley's Mill Rd, Rappahannock

3 Farm Lane, Rappahannock
Kaitlyn Johnson's Customers
We could not be happier with our experience working with the Cheri Woodard Realty Team. The communication was fantastic, they were always one step ahead, responsive and found a great tenant. We could not ask for more.
- Kevin C.
Farm Lane, Rappahannock County